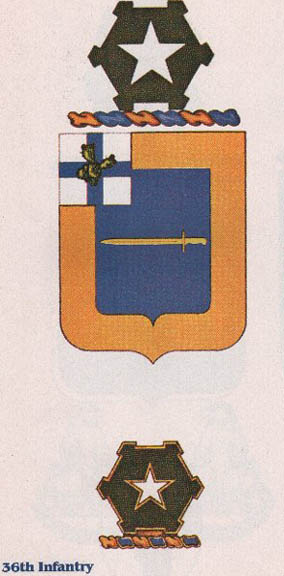 Motto:  Deeds Not Words.

Coat of Arms:

(Top Illustration)

Symbolism:

The field of the shield is blue, the infantry color.  The sword bayonet and bordure are taken from the unofficial insignia adopted by the 12th Division to which the 36th Infantry was assigned in 1918-1919.  The regiment was originally organized at Brownsville, Texas, with personnel from the 4th, 26th, and 28th Infantry.  These units are symbolized on the canton.  The 4th and 28th Infantry both took part in the Vera Cruz expedition of 1914, the name suggesting the cross in blue for infantry.  The cactus represents the Mexican border service of all three regiments.

The crest symbolizes the birthplace of the 36th Infantry.  The origin of Brownsville was the fort built by General Zachary Taylor in 1846, known as Fort Texas.  During the Mexican War the 4th Infantry participated in the battles of Palo Alto and Resaca de la Palma, which were fought for the defense of Fort Texas.  This is shown by the six bastioned fort in green, an allusion to the Mexican color, charged with the silver lone star of Texas.

Distinctive Insignia:     (Bottom Illustration)

The distinctive insignia is the crest of the coat of arms. This is the insignia worn on the overseas cap, and on the lapels of the dress uniform coat for enlisted men, and the epaulettes of the dress uniform coat for officers.

The distinctive insignia is also sometimes abbreviated as "DI," and is also sometimes referred to as the distintictive unit insignia ("DUI), or unit crest.